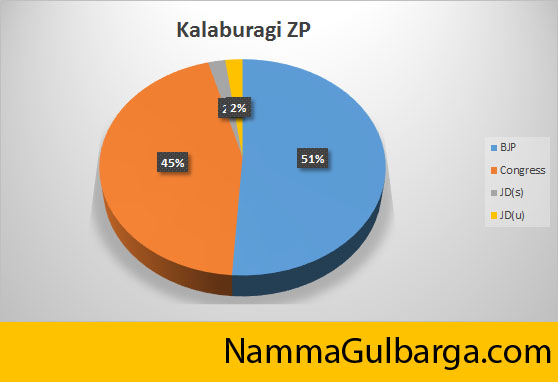 BJP has bagged simple majority in Kalaburagi zilla panchayat (ZP) election by trouncing the all-powerful Congress party. Out of the 47 seats spread over 7 taluks, the BJP has won 24, the exact number it requires to form the 'zilla sarkar'. Congress has bagged 21 seats while the JD(S) and JD(U) have symbolic presence with one seat each.
The names of winning ZP members taluk-wise are as follows.  (Name — Constituency — Party)
Kalaburagi:
Kamalabai Mallikarjun (Kamalapur-Cong)
Vijayalaxmi Vaijanath (Mahagaon-Cong)
Vijayalaxmi Sharanabasappa (Avarad (B)-Cong)
Aravind Vijaykumar (Kusnoor-BJP)
Sumeet Rajendra (Khanadal-BJP)
Dileep R Patil (Farahatabad-Cong)
Santosh Vitthalrao (Pattan-Cong)
Heerabai Babu (Sontha-Cong).
Aland:
Pyati Sidram Bheemshya (Jidga-JDU)
Harshanand Guttedar (Khajuri-BJP)
Gurushantgouda Shalivan (Madanahipparga-BJP)
Taininsalma Begum (Nimbarga-BJP)
Vijayalxmi Raagi (Narona-BJP)
Sharanagouda Patil (Chinchansur-Cong)
Malaji Suvarna Hanumantaraya (Tadkal-BJP)
Kalavati Nagure (Sarsamba-BJP)
Afzalpur:
Bouramma Karuti (Karjagi-BJP)
Ratnavva Kallur (Badadal-BJP)
Annapurna (Atanoor-BJP)
Shobha Sirasagi (Gobbur (B)-BJP)
Arunkumar M Y Patil (Mashal-BJP)
Jewargi:
Devaki Hiremath (Nelogi-JDS)
Dandappa Kuralgera (Yedrami-BJP)
Shantappa Kudalgi (Ijeri-Cong)
Gangamma Desai (Andola-BJP)
Shivaraj Patil (Kolkura-BJP)
Revanasiddappa Sankalli (Aralagundagi-BJP)
Kamalabai Badiger (Mandewal-BJP)
Chincholi:
Hirubai Jadhav (Konchavaram-Cong)
Goutam Patil (Inoli-Cong)
Anasuyya Talwar (Sulepet-BJP)
Ramlingreddy Deshmukh (Kodli-BJP)
Sanjeevan Yakapur (Chimmanchod-BJP)
Shivasharanappa (Nidagunda-BJP)
Chittapur:
Surekha Korawar (Kalgi-Cong)
Shashikala Thimmanayak (Tengli-Cong)
Shivanand Patil Martur (Bhankur-Cong)
Shivarudrappa Bheeni (Diggaon-Cong)
Ashok Jagannath Sagar (Ravoor-BJP)
Sonibai Vitthal (Nalwar-Cong)
Rajesh Guttedar (Arankal-Cong)
Shivalingamma Sangavi (Gundugurti-Cong)
Sedam:
Basavaraj Mattimud (Adaki-BJP)
Devamma Pilli (Malkhed (J)-Cong)
Damodarreddy Patil (Mudhol-Cong)
Gouramma Jaibhim (Kodla-Cong)
Sharadamma Jaipalreddy (Kolkunda-Cong)
Related Posts: