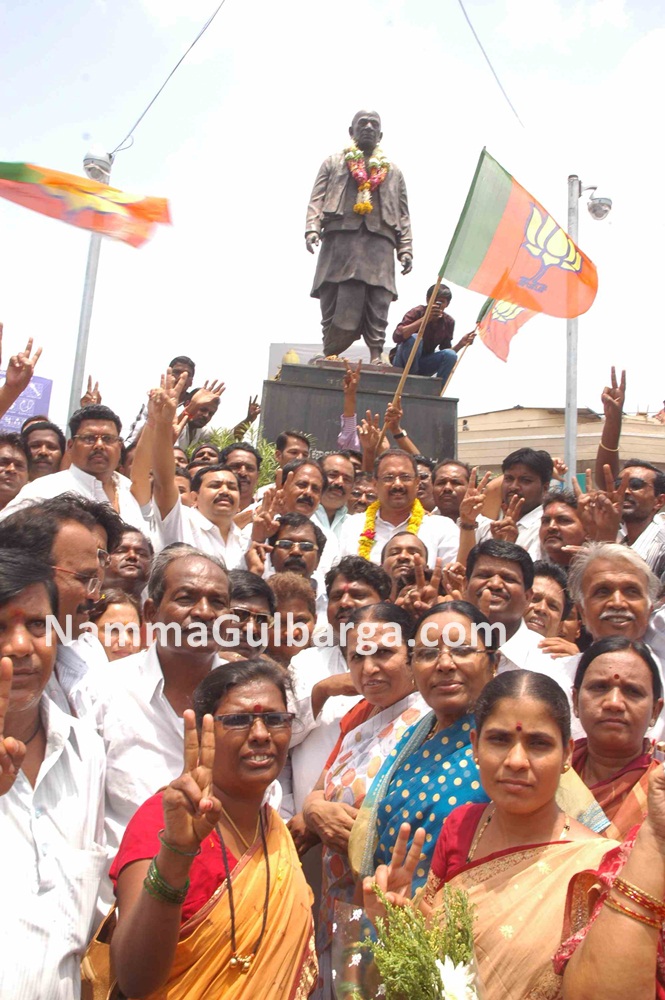 BJP leaders and activists celebrated their party candidates victory soon after the election results was declared for North-East graduates Constituency.
Going by the trends in the first three rounds itself, it was indicated that the BJP candidate  would sail through.At the end of the third round, Mr Amarnath Patil had established a comfortable lead of  4,037  votes over his nearest rival Shivanand Bhimalli of Congress.The election was held on June 10 and the counting of ballots was held at the Bhaskar Hall of the Mathematics Department of the Jnana Ganga Campus of Gulbarga university here on Wednesday amidst tight security arrangements.
Mr Amarnath Patil, President of the Hyderabad Karnataka Development Board, had maintained lead from the first round of counting. At the first round he was leading by 836 votes over independent candidate Sharanappa Mattoor. However, in the second round  of first preference votes Amarnath increased his lead to 2,239, this time over Congress nominee Bhimalli with Mattoor relegating to third position.At the end of third round BJP was lading by 4,037 votes over its nearest rival Congress.
There are 15 candidates in the fray and the fight appears to be  between  BJP,Congress and independent Mattoor.At the endof the third round, Mr Patil had polled 14,022 votes followed by Mr Bhimalli 9,985, Sharanappa Mattoor 9,174.Sharanabasappa Kadadi of JD(S) was able to get only 1,423 votes occupying  the poor fourth position.
The observers feel that BJP was at the threshold of the victory. If BJP wins it will be the fifth successive victory in a row since1988.Late Dr M R Tanga had created a hat-trick by winning  the seat three times in a row since1988 and after his demise Manohar Maski won the seat.
Source: DH
Related Posts: