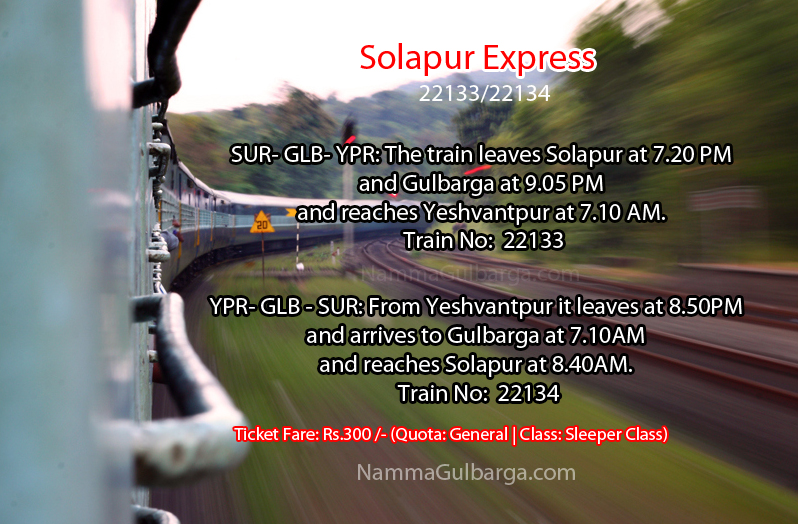 Railway Minister Mallikarjun Kharge will flag off the increased frequency of the 22133 Solapur-Yeshvantpur tri-weekly express train to a daily train here on September 24, Tuesday,at 11.30am.The new train will run as daily train from September 25 from Yeshvantpur and from September 26 it will run as a daily train from Solapur. There will be no change in the halts and composition of the train, a Central Railway release said.
Solapur – Gulbarga – Yeshvantpur : The train leaves Solapur at 7.20 PM and Gulbarga at 9.05 PM and reaches Yeshvantpur at 7.10 AM. Train No:  22133
Yeshvantpur – Gulbarga – Solapur : From Yeshvantpur it leaves at 8.50PM and arrives to Gulbarga at 7.10AM and reaches Solapur at 8.40AM. Train No:  22134
Ticket Fare: Rs.300 /- (Quota: General | Class: Sleeper Class)
Ticket Fare: Rs.390 /- (Quota: Tatkal | Class: Sleeper Class)

It will have stops at Gulbarga, Wadi, Yadgir, Raichur,Mantralayam,Adoni, Guntakal, Anantpur, Dharmavaram, and Yelahanka in both the directions. It will have one first AC, one AC 2-tier,one AC 3-tier, seven sleeper class, six general second class and two general second class cum guard's break vans.
Related Posts: