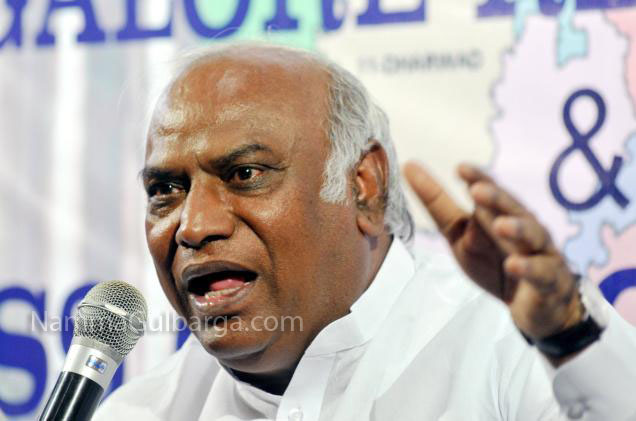 The appointment of M. Mallikarjun Kharge as Railway Minister on Monday has revived the hopes of people of the Hyderabad Karnataka region that their demands on improving the rail connectivity in the region would become a reality.
Giving the Railway portfolio to Mr. Kharge, who missed the chance to become Chief Minister thrice, is seen in political circles as a recognition by the high command of his party loyalty .
With Mr. Kharge heading of the Railway Ministry, the chances of Gulbarga getting a railway divisional headquarters, as recommended by the Sareen Committee several decades ago, appears to be bright. Hyderabad Karnataka, which got a raw deal as far as railway network was concerned, can now look to Mr. Kharge undoing the injustice done to the region so far.
                        Mr. Kharge, who was elected from Gulbarga Lok Sabha constituency in the 2009 elections and made Minister for Labour and Employment, took several steps including sanctioning high-tech super speciality ESIC hospitals in different parts of the country and opening medical colleges in the ESIC hospitals. He was also instrumental in sanctioning an ESIC Medical Complex, with a medical college, dental college, pharmacy and other paramedical institutes and a super speciality ESIC hospital in Gulbarga.
President Pranab Mukerjee, who was then the Union Finance Minister, had laid the foundation for the ESIC super-speciality hospital and medical complex in Gulbarga, which is in the advanced stage of construction. The Medical Council of India is understood to have given permission for admitting 100 students for MBBS course for 2013–14 at the ESIC medical college in the city.
Heading the Railway Ministry is yet another milestone in the long political innings of Mr. Kharge who has the unique achievement of not having lost even one election.
Hyderabad Karnataka Chamber of Commerce and Industry president Umakant Nigudgi congratulated Mr. Kharge. Congress party workers burst crackers and distributed sweets to express their happiness.
Source: The Hindu
Related Posts: