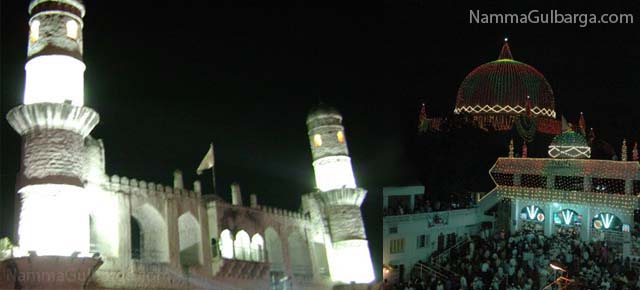 Syed Muhammad Hussaini, commonly known as Hazrat Khwaja Banda Nawaz Gesu Daraz (July 13, 1321 -November 1, 1422), was a famous Sufi saint from India of the Chishti Order, who advocated understanding, tolerance and harmony among various religious groups.

The 14th Century Sufi saint was a disciple of Hazarath Khwaja Pir Naseeruddin Mahmood also popularly known as Chirag of Delhi. Khwaja Bande Nawaz played an important role in preaching Islam in India during the 14th Century. Khwaja, who had his formal education in Islamic and Koranic studies, Arabic grammar, prophetic traditions, theology, law and jurisprudence, philosophy, and Sufism under the watchful eye of Chirag of Delhi, also underwent training in the mystic path and mastered it at a young age. The Sufi saint settled down in Gulbarga on the invitation of Bahamani King Firuz Shaha Bahamani. For the next 22 years, till his death at the age of 105 years, Khwaja made Gulbarga his home and spread the message of universal brotherhood from here.

This magnificent building was built in the Indo-Saracenic style and very clearly exhibits the varying styles of these two cultures. While the arches are a specialty of Bahmani architecture, the paintings on the walls and the domes are Turkish and Iranian in style.

The Dargah Library stocks as many as 10000 books in Urdu, Persian and Arabic on eclectic subjects ranging from history and literature. The mosque near the tomb has been ascribed to Aurangzeb.
Related Posts: