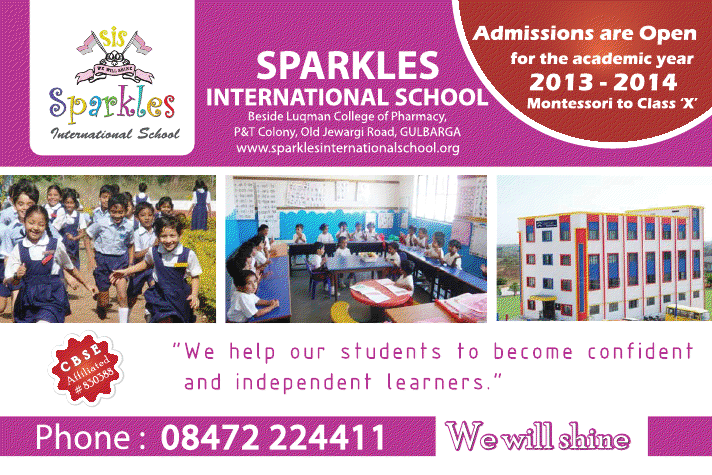 Admissions are open for the academic year 2013 – 2014 for Montessori to Class 'X' at Sparkles International School, Gulbargas best CBSE school in center of the city. The school is   Affiliated to CBSE, Reg No is CBSE/AFF/MS-00468 1112/830388/2011/324351.
About school:  APSARA Charitable Trust is a registered public trust which was established in Gulbarga in 2005 to offer the best possible education to the children and also to develop an attitude to face the world against all odds and with courage.
In the pursuance of main objectives, Apsara Charitable Trust has started "Sparkles International School" in a lush green campus comprising an area of 2.2 acres of land with CBSE syllabus. The CBSE Reg No is CBSE/AFF/MS-00468-1112/830388/2011/324351. The School believes in the grooming of academic excellence along with the cultivation of moral and ethical values of high order,character,humility,tolerence and team spirit are the values which the school Endeavour's to bring out from each child.
Sparkle International School is situated in a perfect Indian setting yet delivers an international education. The buildings are all modern and spacious and offer the students the near-comfort of home.
On entry into the School, each pupil is placed in a Form Group of not more than 25 under a Form Tutor who will be responsible for monitoring all aspects of progress and welfare. The Form Tutor is the first point of contact for parents on any issue concerning the child. The School will actively encourage strong links with parents to ensure that at all times they are kept fully informed of any concerns that they or the school may have. Regular Parent Evenings/Mornings will take place and these, along with half yearly reports and occasional interim reports, will ensure that each pupil's progress is closely monitored.
Contact Details:
Sparkles International school
Beside Luqman College of Pharmacy,
P&T Colony, old jewargi road, Gulbarga
Phone: 08472 224411
Location:
Related Posts: